Teeth, glorious teeth!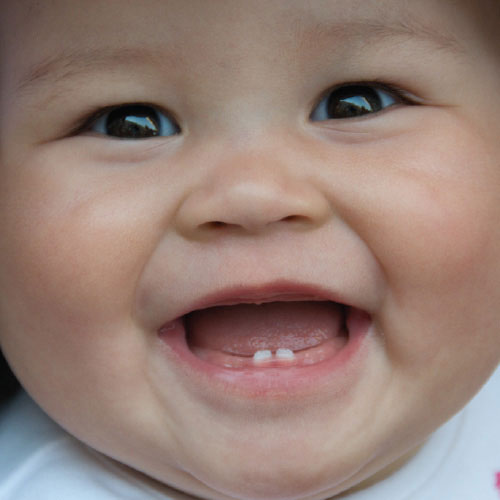 Teeth begin developing for your baby while they are in the womb, and for some newborns the movement of teeth can bring an array of symptoms. It is important to know that you won't necessarily see a tooth pop through to the surface when your baby shows symptoms, they may just have a lot of movement happening under their gums. This is what has happened for three of the baby's that I am working with this month, with the youngest being three-and-a-half months old. Teething symptoms include...
Teething symptoms include:
Irritability or fussiness
Drooling (which can lead to a facial rash)
Gum swelling and sensitivity
Gnawing or chewing behaviour
Red cheeks
Temperature
Refusing food
Sleep problems
Loose stools because of the baby's increased level of saliva
Mucous in stools
Burping becomes harder as all focus is on the discomfort in their teeth, this contributes to the irritability and sleep problems.
Teething remedies include:
Pressure and cold - you can use a safe teething ring for baby to chew or, if old enough, wrap a slice of apple that has come from the fridge in muslin cloth and let them chew on this.
Numbing gel or cream - this is a great option for babies that are not old enough to hold anything and are available over the counter in most pharmacies and some supermarkets. Be aware that the FDA recommend you stay away from teething gels that contain benzocaine.
Homeopathic remedies - consult a homeopath for recommendations.
Painkillers - an over-the-counter medicine like Pamol can be helpful during teething. I'm not one to use medication if I can help it but this is a time that I found it appropriate for my wee man when he was teething.
Vaseline - it's not the most natural cream on the market but if your baby is red raw, or even bleeding on their bottom then I suggest you use dollops of Vaseline until they have healed - make sure your baby is completely dry before placing this on.
Last Updated: 14 December 2015